I've been working on a spring-loaded brass fan, which requires a lot of etching to be done. Normally I would do it chemically with ferric chloride, but that would get very expensive very quickly. So I decided to finally take the plunge and try out galvanic etching, generally following the guidelines
here
.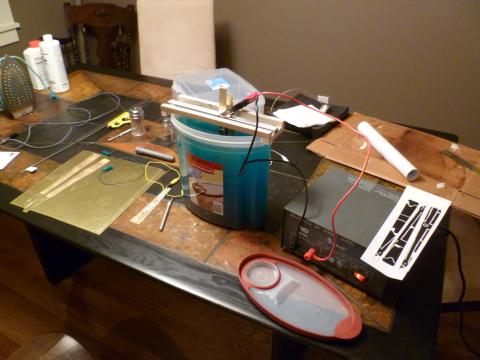 It has worked well enough, so far, but it's a bit of a messy process. With a bit under an inch between the work piece and the cathode, it takes 30-45 minutes to get a decent etch. Given that I have 28 pieces to do for the fan, this is only barely acceptable.
Gunk builds up on the cathode fairly quickly, which eventually bridges to the work piece and generates a short. I have to sit there with it and clean things off every 5 minutes. Possibly with a pump this could be improved. My power supply eventually blew its fuse, thanks to all the shorts.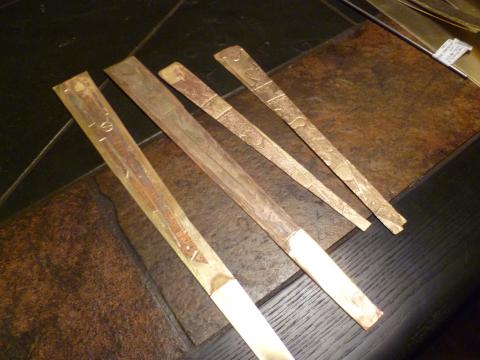 The results are decent, but surprisingly rough in places. A ferric chloride etch would be much cleaner. Some of this seems to be the exact laser printer/glossy photo paper resist transfer process that I'm using. It starts to peel away towards the end of the etching process. The quality of the non-resist areas is really nice, though, giving a very smooth surface.